Join the Educator Network
*Registration is temporarily disabled while we perform maintenance on the site. Please check back soon.
The Question Formulation Technique (QFT) is the outcome of twenty years of work in developing and, most importantly, simplifying a straightforward, rigorous process that helps all students learn how to produce their own questions, improve their questions, and strategize on how to use their questions. In the process, they develop divergent, convergent and metacognitive thinking abilities.
As a member of the Educator Network, you can:
Get free resources to learn the QFT and teach others to ask their own questions
Connect with thousands of educators around the world who are using the QFT in their classrooms
Share and exchange stories, questions, and QFT curriculum ideas with other educators in the Network
Receive monthly newsletters that describe how educators and administrators across the world are implementing the QFT (optional)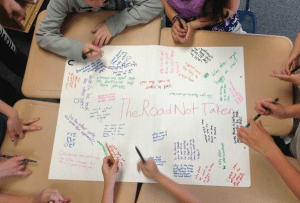 Hear from Current Network Members:
[The Question Formulation Technique] meets our students' needs, applies to all content areas, and (with the free resources available) it is an inexpensive, high-quality solution that does not require us to purchase materials or technology.
[The Question Formulation Technique] creates high student engagement based on data, it is differentiated, it improves critical thinking skills, it is democracy in action, it creates student ownership of learning, it creates increased collaboration-all 21st century skills at no cost-let me repeat that- improved 21st century skills at no cost.
The Question Formulation Technique works!!! It is the best tool I've come across that encourages independent, critical thinking.
A part of the new teacher evaluation (Danielson's 3B) and the Common Core is to have students generating questions…this is a great resource!